Welcome to
Odeceixe Surf School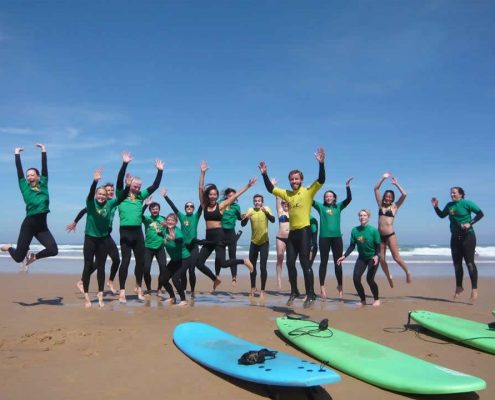 The southwest coast of Portugal is a surfer's paradise. The unbroken waves rolling in from the Atlantic are perfect for training ones/your surfing skills.
The school is located on Odeceixe beach where classes are held. On the sand you will find a small beach hut where the classes start and where equipment can be rented.
Lessons are two times per day. The morning session starts at 11.00h (11 a.m.). The afternoon lesson is at 16.00h (4 p.m.). These are indication times only as the instructors sometimes wait until the tide is in a better condition to go surfing. One session lasts 1.5 hours.
Our instructors are local surfers certified by the Portuguese Surfing Federation, all of whom have lifeguard licenses and a huge knowledge of the region's beaches and its conditions.
The classes are made with a maximum of 8 students per instructor. Instructions are given in English or Portuguese. For children, instructions can also be translated in German or Dutch.
Conditions are perfect for beginners because the sandbanks and the small waves in the white water provides comfortable and safe surfing conditions. After a few lessons you should be able to stand up on your board and in time you'll be confident enough to go outside (surf in the 'green'water, further into the sea) with your instructor.